We present to your attention a note about graduates of the Cisco Network Academy at the Race Communications Training Center.
12 October 2009
Success comes to successful
For more than 10 years, the Cisco Network Academy at the International Engineering University on the basis of the Race-Communication training Center has been training qualified specialists in demand in the information technology market
School and student years are the happiest time in everyone's life. It is at this time that we get basic knowledge, find true friends with whom we then go through life, and begin to think about choosing a profession and make plans for the future. Today, when science and technology are rapidly developing, and the creative potential of the individual comes to the fore, more and more graduates of schools and universities are striving to improve their knowledge and skills.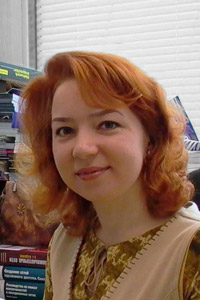 Irina Martynova, a 2001 graduate of the Cisco Network Academy at the International University of Engineering (MIU), now works at Sberbank of Russia as a leading engineer. Her career was going well from the very beginning. While studying at the Moscow Aviation Institute (MAI) at the Faculty of Robotics and Intelligent Systems, Irina and her fellow classmates Andrey Kozlov and Dmitry Pasenko received an offer to do an internship at Race Communications, a Cisco partner company, and study the design, construction and efficient operation of data transmission networks. In the fall of 1999, all three were already studying at the Cisco Network Academy at MIU on the CCNA course. Irina completed her diploma internship at Sberbank of Russia, where she collected material on the topic "IP Telephony networks".
"Training in the field of network technologies opens up unique opportunities: this is an interesting job, constant professional development, and often rapid career growth," says Irina. – The Cisco Network Academy program helped me to understand the basics of network technologies on real Cisco equipment. The learning process was rich and effective: the theoretical material was presented in a convenient form, and the test work in the form of a test after each lesson consolidated the material passed. It is also significant that in addition to theoretical knowledge, we have acquired practical skills in setting up real Cisco network equipment."
In 2001, Irina graduated from MAI with a red diploma, and she was accepted for a permanent job at Race Communication as an assistant instructor at the Cisco Network Academy at MIU. In the same year, she successfully passed the test and received CCNA and CCDA certificates, as well as the Cisco Network Academy Instructor certificate for the CCNA course. In 2002, Irina passed the exams for the CCNP certificate and was sent by Race Communications to Birmingham (England) to attend the Cisco Network Academy instructor courses at the Technology Innovation Centre. In 2003, she also received a CCDP certificate, and at the 2004 first Moscow conference Educating Tomorrow's Networking Professionals, Irina Martynova was among the top 10 instructors of Cisco Network Academies in Russia and other CIS countries. In 2005 and 2008, she successfully confirmed her qualification level in the CCNP course.
In November 2006, Irina moved to a permanent job at Sberbank of Russia, where, after an interview, she was immediately offered the position of lead engineer. "At work, I am engaged in providing and improving the bank's corporate telecommunications network, which is more than a thousand nodes,– says Irina. – Even today I have to turn to the knowledge acquired at the Cisco Network Academy. Communication with qualified teachers, easy–to-understand presentation of the material, laboratory work carried out on both real and virtual Cisco switches and routers - all this allowed me to gain the necessary knowledge and achieve significant success in my professional activities." Concurrently, Irina continues to work at the Cisco Network Academy as an instructor. She conducts practical and laboratory classes, advises remote listeners on CCNA and CCNP courses.
Working at the Cisco Network Academy, Irina Martynova also found personal happiness. In 2005, she married Vladislav Burba, a graduate of this academy who studied the CCNP course. Now Vladislav works as a leading engineer in the World Class company.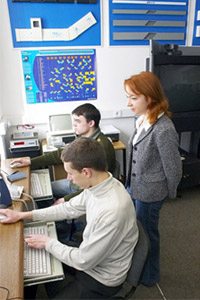 Irina's former classmates, Andrei Kozlov and Dmitry Pasenko, graduated from the Cisco Network Academy at MIU in 2002 and became holders of CCNA, CCDA, CCNP and CCDP certificates, also easily found a good job. Andrey now works in the Moscow office of Cisco Systems LLC as a senior engineer in the field of technical support for projects of Cisco strategic customers in Russia and other CIS countries, and Dmitry holds the position of Deputy Director for Equipment Sales of ARBITE CJSC. Prior to that, both of them had worked at Race Communications for several years and were constantly improving their skill level. So, Dmitry additionally passed the theoretical (written), and Andrey passed the theoretical and practical tests for the title of CCIE expert. Every two years Andrey successfully confirms this title.
All three heroes of our story agree that the knowledge and practical experience gained at the Cisco Network Academy in setting up and operating modern complex networks is a solid, invaluable base that ensured the growth of their careers. "I highly appreciate the unusual for Russia methodology of training in Cisco courses with a focus on maximum independent work," Dmitry Pasenko shares. – I remember with gratitude a lot of control tests and various laboratory tasks."
The Cisco Network Academy was opened on July 2, 1999 on the basis of the Race Communication training center. At the end of 2001, it became one of the 50 best Cisco Network Academies in Europe, the Middle East and Africa, having received the right to train network professionals with CCNP qualifications. Cisco Network Academy based on the Race Communications Training Center offers CCNA Discovery, CCNA Exploration and CCNP courses to students. In ten years, 170 graduates have successfully graduated from the Academy in the CCNA course and 19 in the CCNP course. From the very first day, Professor Vladilen Ivanovich Lopatin has been constantly supervising her work.
The original press release on the Cisco Systems website