Race Communication specialists took part in the forum "Space Comms Business Days 2013".
29 April 2013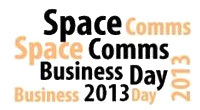 Race Communications took part in the II International Business Forum Space Comms Business Day' 2013, which took place on April 24 in Moscow at the Holiday Inn Moscow Suschevsky. The forum was organized by ComNews Conferences and was held with the support and participation of Roscosmos and Rossvyaz.
The Forum was also supported by the largest international associations Global VSAT Forum (GVF), European Satellite Operators Association (ESOA), non-profit partnership "National Assembly of Satellite Communications" (NP NASS), RAEC, International Public Academy of Communications, as well as heads of Russian and foreign satellite operators, TV and radio companies and operators of broadcast networks, manufacturers of telecommunications equipment, system integrators, investment and insurance companies, consultants and industry experts, industry media, representatives of companies - consumers of satellite communication services. The Forum is one of the largest events in Russia, Central and Eastern Europe in the field of satellite communications and broadcasting.