StarBlazer at CSTB'2012.
14 February 2012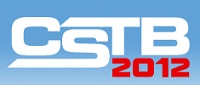 Starblizer LLC, a Russian satellite Internet and media service operator, part of the Race Group of companies, took part in the CSTB'2012 exhibition. At the exhibition, StarBlazer satellite Internet presented new solutions and services for legal entities and individuals.
The fourteenth International Exhibition and Forum CSTB'2012 was held at the International Exhibition Center "Crocus Expo" from 7 to 9 February. The event traditionally presents various current formats and directions of television and telecommunication technologies. CSTB'2012 gathered more than 300 participants from many countries of the world, including cable and satellite TV operators, satellite communication operators, providers promoting IPTV and HDTV, manufacturers of equipment for pay-TV networks, distributors, system integrators, the largest manufacturers and distributors of TV channels.